Due to COVID-19 Orders and Restrictions, the 34th Annual Ojai Wine Festival has been cancelled for 2020
With the uncertainty surrounding the COVID-19 pandemic along with issues holding our event with the current social distancing guidelines the Rotary Club of Ojai West Foundation has decided to cancel their annual non-profit fundraiser, the 34th Annual Ojai Wine Festival. Unfortunately, postponement is not an option because our beloved venue, Lake Casitas Recreation Area, has been closed indefinitely due to the outbreak. One of Rotary's major causes is fighting disease and we do not want to contribute to the spread of this hyper contagious virus.  We have rescheduled the 34th Annual Ojai Wine Festival for Sunday, June 13th, 2021. We are disappointed that the 2020 festival has been cancelled, but we hope that you will make plans to attend next year. Our hearts go out to all those affected by the Coronavirus.   Read more
Wineries
Wine connoisseurs can delight in 60 award-winning wineries with more than 250 selections of wine.
VIP Lounge
Limited to 600 people, the VIP Lounge has early 11:30 a.m. entry, exclusive fine wines, craft beers, spirits and hors d'oeuvres.
Breweries
Beer lovers can enjoy a selection of 30 Premium Craft Beers and Microbrews.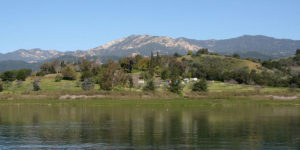 Map & Directions
The event site is located at Lake Casitas Recreation Area's Wadleigh Arm, 11093 Santa Ana Road Ventura, CA 93001.
A Total Diva Designs
Bank of the Sierra
Derby & Derby, Inc
Doug Crawford Insurance
Enterprise Fleet Management. Inc.
LIV Sotheby's International Realty
Myers, Widders, Gibson, Jones & Feingold LLP
Ojai Valley Family Medicine Group
SB Sound Guy
Bill and Jill Shanbrom
Stephen Adams Photography