34th Annual Ojai Wine Festival: June 14th, 2020 from 12-4pm, Lake Casitas Recreation Area
Since 1987, the Ojai Wine Festival has earned over $1.4 Million for Rotarian Community Service and international projects. Locally the Rotary Club of Ojai West Foundation focuses their efforts on enriching the education and health of our local youth as well as aiding additional civic needs. Our International Projects promote peace, fight diseases, provide clean drinking water, save mothers and children in need, support education and help grow local economies.
Wineries
Wine connoisseurs can delight in 60 award-winning wineries with more than 250 selections of wine.
VIP Lounge
Limited to 600 people, the VIP Lounge has early 11:30 a.m. entry, exclusive fine wines, craft beers, spirits and hors d'oeuvres.
Breweries
Beer lovers can enjoy a selection of 30 Premium Craft Beers and Microbrews.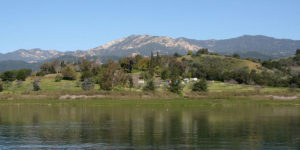 Map & Directions
The event site is located at Lake Casitas Recreation Area's Wadleigh Arm, 11093 Santa Ana Road Ventura, CA 93001.