Due to COVID-19 Orders and Restrictions, the 2021 Ojai Wine Festival has been cancelled.
Regretfully the Rotary Club of Ojai West Foundation has cancelled their beloved non-profit fundraiser, the Ojai Wine Festival for 2021.  We hope you can make plans for next year's premier wine event so please mark your calendars for Sunday, June 12th, 2022! In the meantime, we are working on a safe alternative fundraiser and hope that it brings you something to look forward to- we will keep you posted via our Facebook page!
Now more than ever, it is vitally important to continue raising charitable funds for our Rotarian projects that focus on fighting disease, improving education, aiding with women and children's health, and supporting activities that enrich the lives of area youth. We need your help more than ever to continue our philanthropic efforts. If you would like to make a tax-deductible contribution to our Rotary projects please visit the Donation page of our website today.
We look forward to welcoming back all of you next year for another fantastic fundraising event! Please check back in January at OjaiWineFestival.com to purchase tickets for 2022. Until then, stay healthy by wearing your masks, getting vaccinated and keeping a safe distance from others.  Achieving herd immunity to COVID-19 is the key to our successful future. Cheers to you for your continued support.
Wineries
Wine connoisseurs can delight in 60 award-winning wineries with more than 250 selections of wine.
VIP Lounge
Limited to 600 people, the VIP Lounge has early 11:30 a.m. entry, exclusive fine wines, craft beers, spirits and hors d'oeuvres.
Breweries
Beer lovers can enjoy a selection of 30 Premium Craft Beers and Microbrews.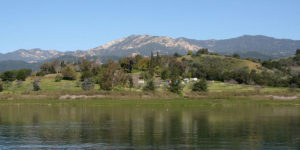 Map & Directions
The event site is located at Lake Casitas Recreation Area's Wadleigh Arm, 11093 Santa Ana Road Ventura, CA 93001.
A Total Diva Designs
Bank of the Sierra
Derby & Derby, Inc
Doug Crawford Insurance
Enterprise Fleet Management. Inc.
LIV Sotheby's International Realty
Myers, Widders, Gibson, Jones & Feingold LLP
Ojai Valley Family Medicine Group
SB Sound Guy
Bill and Jill Shanbrom
Stephen Adams Photography